To sell on MaxSold, you will need to contact our sales here:
https://seller.maxsold.com/


We offer two types of auction services, Seller Managed and MaxSold Managed. The biggest difference between these options is whether or not the seller is handling the cataloging and pickup process themselves. With all auction services, MaxSold helps with the hosting of the online auction, marketing, customer service and collection of payment. When signing a contract, please make sure to select the correct auction service type.


MaxSold Managed
Our team of skilled auction assistants will lot, catalog, and photograph the seller's items. They will return after the online bidding has occurred to supervise the pickup event (removal of items).


Seller Managed
The seller catalogs and photographs the items and hosts the final pickup using the list of winning bidders after the auction closes. There are two ways to build your catalog:

If you plan to use the app, please select Use the New MaxSold Seller App and enter your email address. If you plan to get support from someone else who would be cataloging and leading your auction using a smartphone or tablet, enter their email address instead.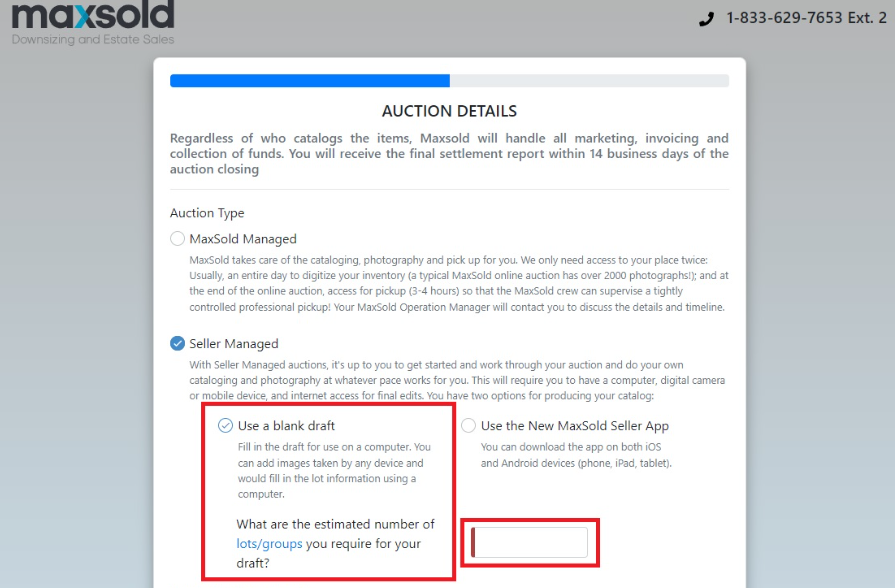 If you are selecting Seller Managed auction and plan to catalog from your computer, you will not need to use the MaxSold Seller app. When you submit your contract, simply choose "Use a blank draft" and add the approximate number of lots to receive a catalog draft you can fill in directly from your computer. This draft catalog will be found in the Seller Portal.