Thank you for your interest in bidding with MaxSold. Everything starts at $1 and the registration is free. Here is a step by step of how to register and bid in our auctions by using the desktop view.
Go to

MaxSold.com

, and enter the city you are interested in. This will pull out all the auctions within 60 miles around you.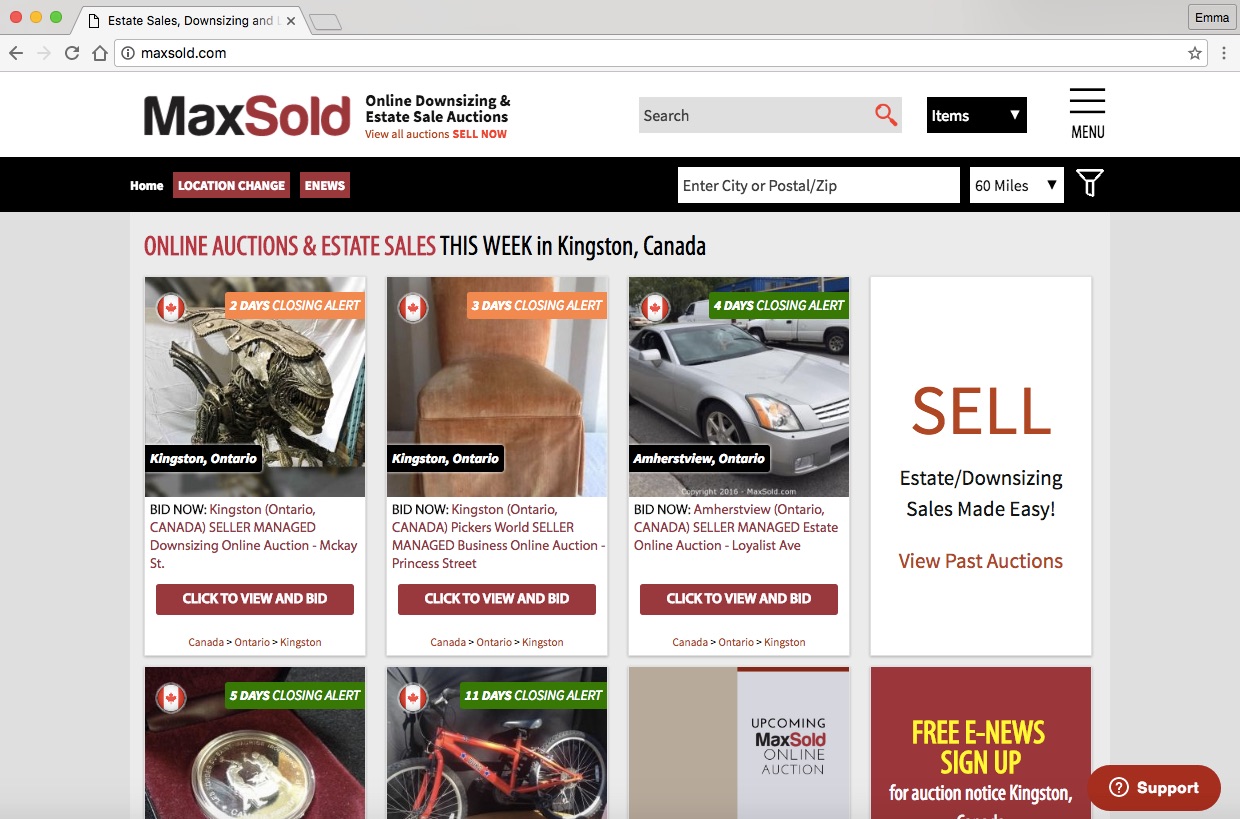 If you want to register, go to the top right corner and click on the menu button. Select "login" and it will take you to our registration site.

Fill in all the information required, and read the terms and conditions.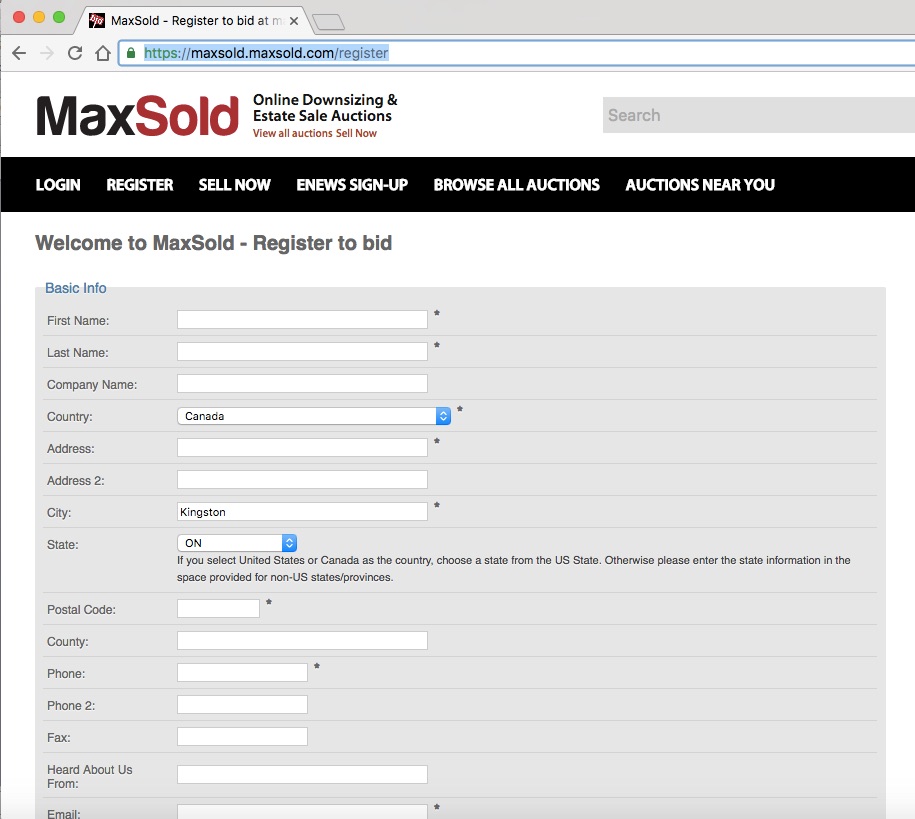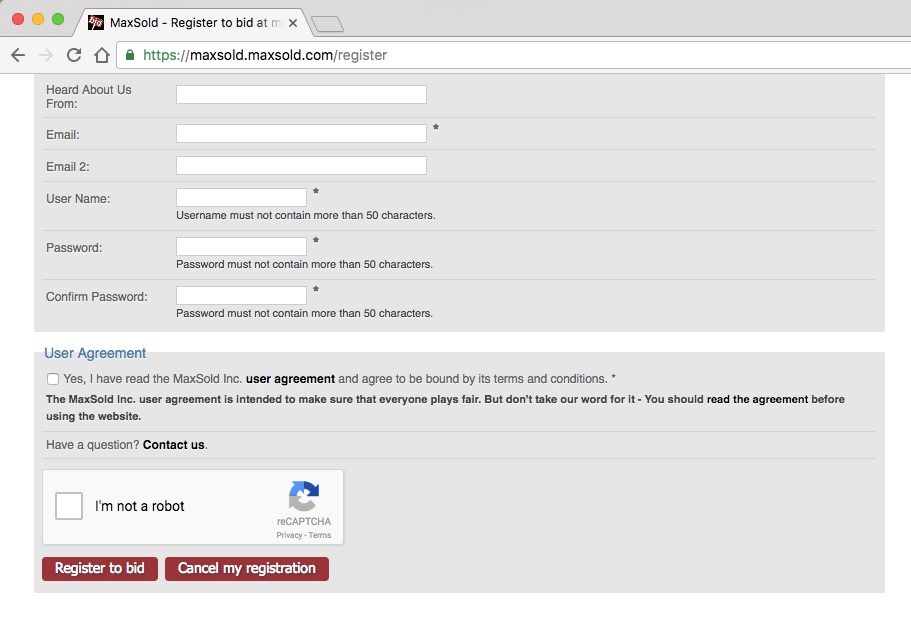 You will get a confirmation email and please click the link to activate your account. If you didn't receive it, please check your spam folder and add

support@maxsold.com

as safe sender. In addition, you could always contact support with your "registered email" to activate your account.
Your bid is a commitment to purchase the lot if you win the auction and your credit card will be charged accordingly right after the auction ends. To protect the integrity of your auction from another bidder running up prices only to renege later on payment, we require all bidders to provide their credit card details up front. With MaxSold you know that only real bidders are participating and the auction is fair. (Please read more here: http://maxsold.com/why-maxsold-asks-for-your-credit-card/)
We do not accept cash, Discovery, or American Express, but you could use pre-paid VISA or MasterCard if you are not comfortable of putting in your own personal one.
Go back to the auction you are interested in, and click on "Agree to Terms" before bidding.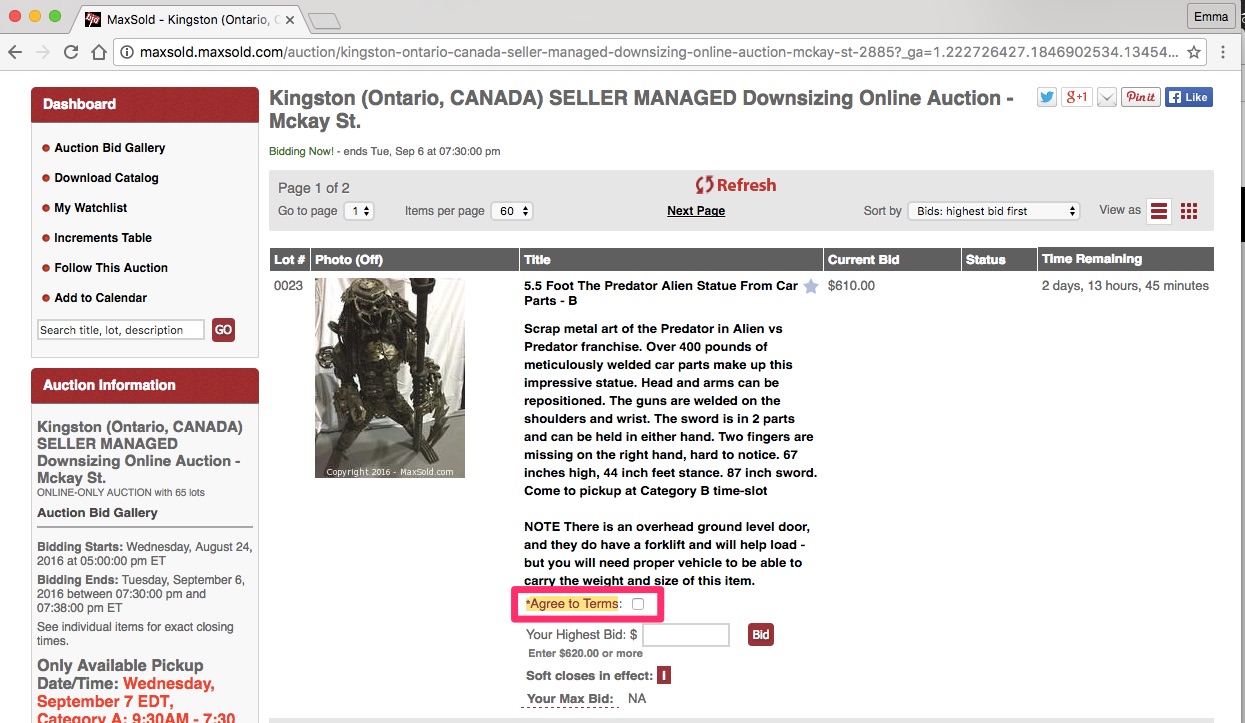 Read through the terms and conditions carefully. Make sure you could make it to the

one time ONLY

scheduled pickup, and arrange your own mover if you need help. Then click "OK."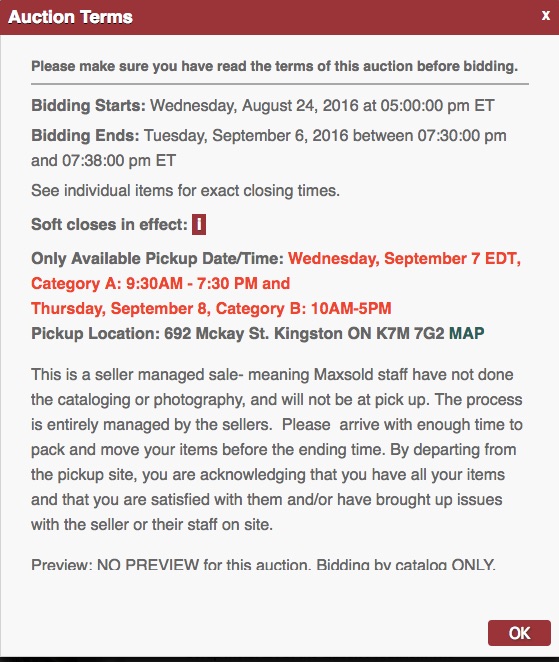 Put in the amount of your bid ($) or your Max Bid and press "bid."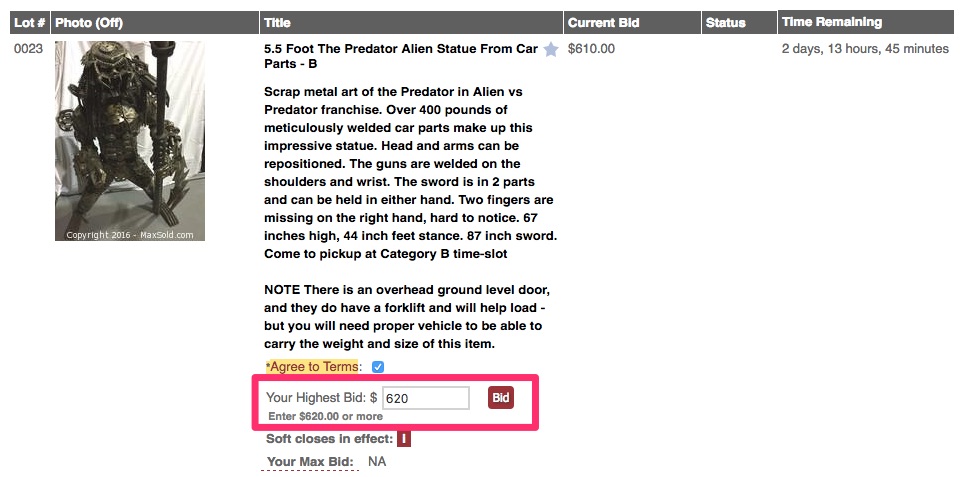 A confirmation window will pop up to confirm your bid. We charge 10% buyer's premium

ONLY

if you are the winning bidder after the auction ends. Remember that we cannot retract bids, so be sure the amount is correct.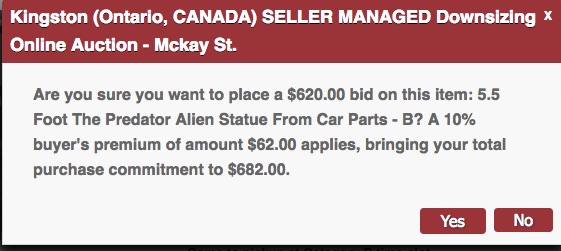 Keep in mind that you could also add the lot in your watch-list by selecting the star.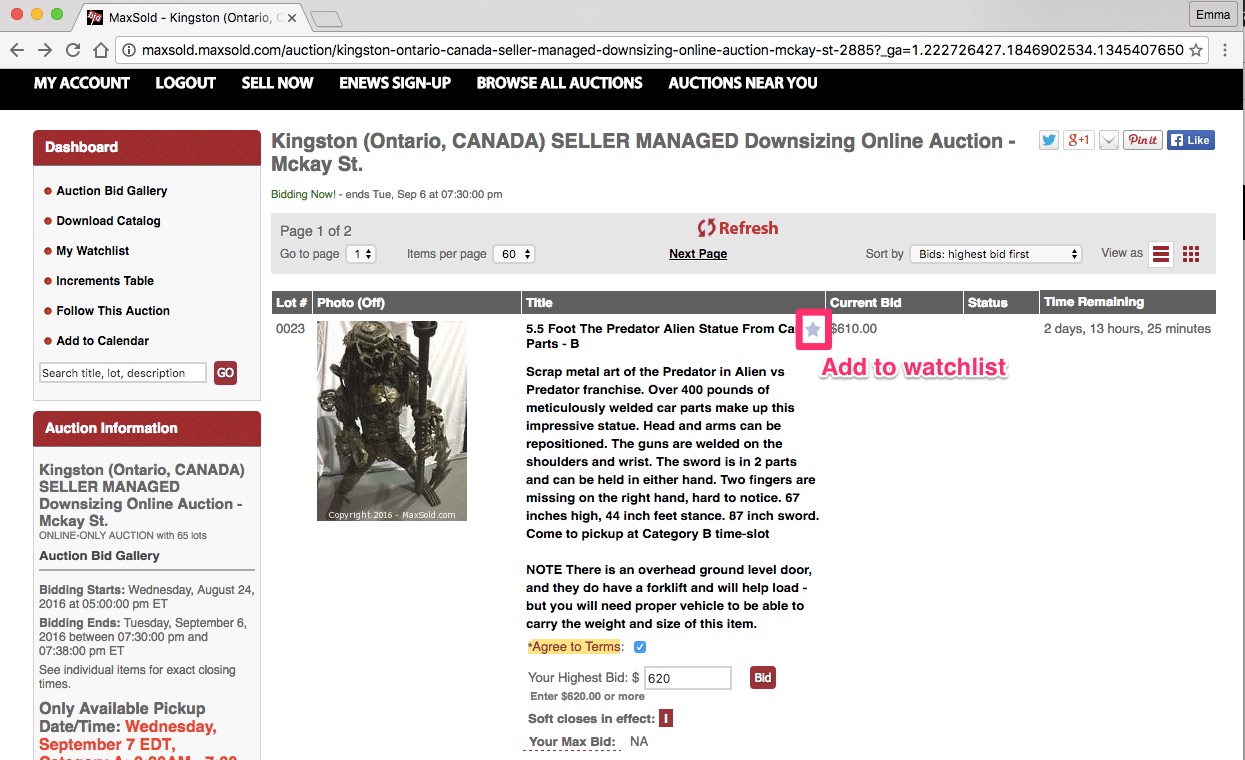 Go back to "my account" on the top left, and select "my Watchlist." You can choose the auction you like by using the filter, and enter your bids from your Watchlist if you have multiple items bidding at the same time. You could also check "my bids" to track all the items you are bidding on. Please note that deleting items from Watchlist or Bids list doesn't mean you are deleting your bids.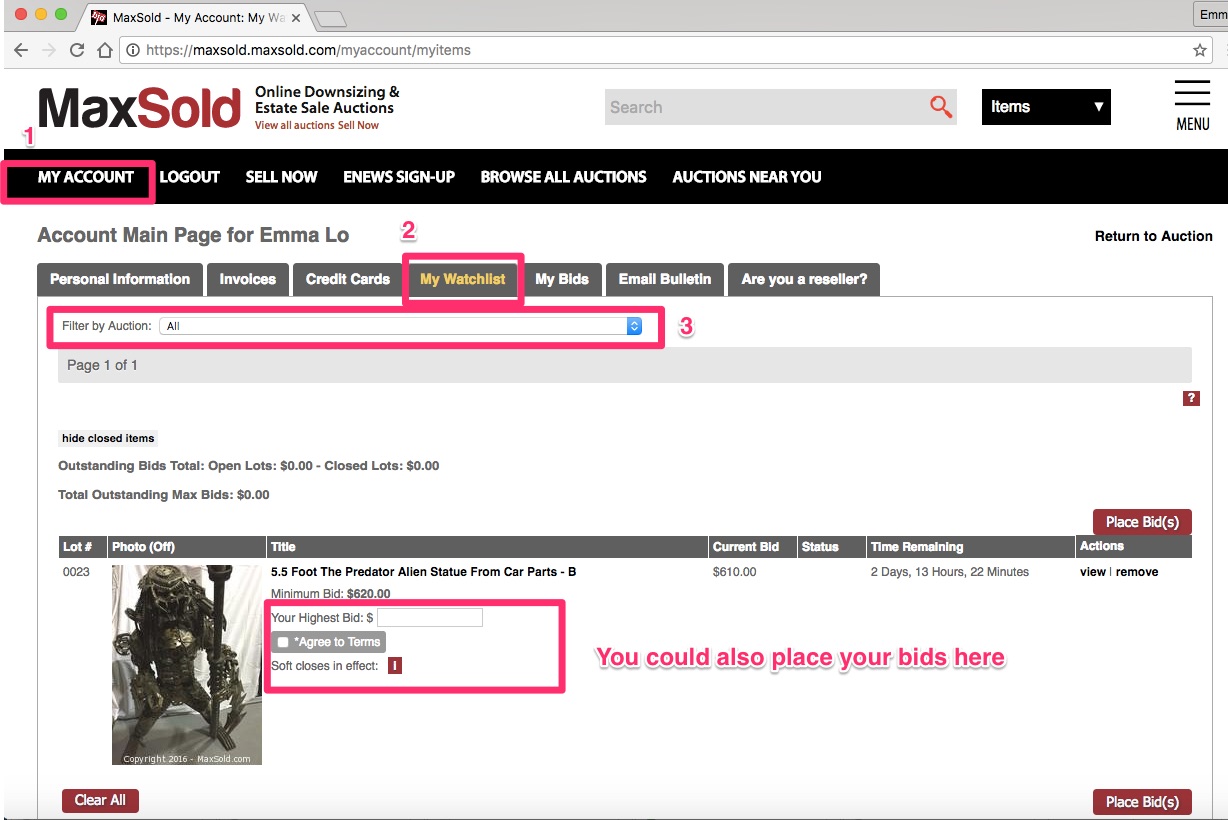 There are a couple of feature you may want to know about bidding:
Max Bid 
You can enter a maximum bid higher than the asking or current bid in the same bidding box, so the system will help you bid. Only if someone else has placed a higher bid or bids at the same time will the bid amount change. It is impossible to out bid your own bid. To change your max bid, simply enter a new amount that is at least the current bid amount (you can lower your bid below the current price, or increase by just bidding a higher amount). We highly encourage you to use this feature, so you don't miss out on any opportunity at the last minute. 
Soft Close
A 2-minute time extension exists after the last bid has been placed to ensure that the process is fair for all bidders. This is similar to a live auction, during which the bidding will continue as long as bidders increase the bid amounts. Link to read more.
Bidding increment
The minimum bid is calculated by incrementing the current bid amount by the amounts listed in the table here.  
Live View
This feature will only kick in in five minutes before the first item closes (eg. 11:55 am for an auction closing at 12 Noon) to make it easy to follow along items closing. In Live View, up to 40 items that are about to close will be displayed with no need to refresh to see the closing time or bid amounts. Link to read more.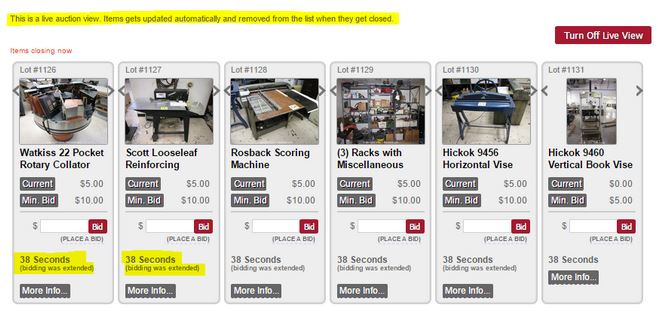 You should receive an outbid email if you are outbid by other bidders, however, sometimes it is delayed by internet speed and browser.
Your invoice is emailed within two hours after the auction is closed and on the day of the pick up. If you didn't receive them, please check your spam box.  In addition, you can also go to 

https://maxsold.maxsold.com/myaccount/invoices

and log into your account. From there, you can select the Invoices link on the top of the page and view all of YOUR past invoices. 
We only release the items to the bidders with the paid invoice. Therefore, you could send your friends and family to pick up your lot on your behalf as long as they have your digital or paper version of your invoice.
If you have any questions, feel free to contact MaxSold Support at 1-877-257-7799 ext 1 or support@maxsold.com. 
Thank you and happy bidding!