Create a bidding account:
Register to bid here!
Search for auctions near you:
Use the search bar on maxsold.com to select your location (by typing in your zip/postal code, or using the dropdown menu) and the maximum distance you are willing to drive for a pickup.
Search for a specific item by typing in the 'Search by Auction or Item' bar.
Click here for a more detailed walk-through.

Bid on items:
Be sure to carefully review the pickup location and date before placing your bid, as this is the only place and time the items are available. If you are not sure you can make it to the pickup location on the specified date, please do not bid, as abandonment of won items could result in the suspension of your bidding account.
Find an item you would like to bid on, and either enter the next highest bid (listed under the bid box in red), or a MaxBid (the highest amount you would be willing to pay; our system will compete with other bidders up to your set maximum). You can lower your MaxBid to the current or next highest bid, but you cannot retract a bid.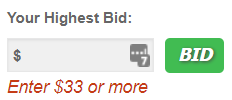 Auctions go into Live View mode 5 minutes before closing, so you won't have to refresh the page to see new bids. We also have a soft close policy, which extends the auction closing time on any lot with activity until bidding has stopped for two minutes.
Review our Terms and Conditions:
It's important to review our Terms and Conditions before placing your first bid!
Key points:
Once you bid you are responsible to uphold that bid.

If you win an item, you are responsible for paying for it and picking it up.
Pick up your wins!
If you win an item, you will receive an invoice with instructions for scheduling your arrival time on pickup day. Bring your invoice, a piece of ID, and the credit card used for the purchase to the pickup site. Be sure to bring packing materials if necessary, and friends to help move large items (MaxSold staff will be unable to assist with moving large items).
Review your items before leaving the pickup site and discuss any issues with the seller or MaxSold team - if you are unhappy with an item, it will be much more challenging to arrange a refund if you leave the site without expressing your concern. If the pickup location is busy, bring the items back to your car and inspect them there before leaving.